Weird War Tales I: UFOs 1939-45,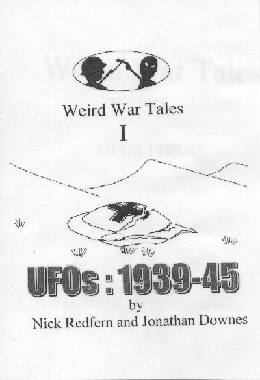 is the first in on-going series of volumes that will address all manner of mysteries from all manner of military conflicts - dating from biblical times to the present day.
Amongst other subjects that we focus on in this volume are:
Top Secret wartime investigations of a mystery precursor to the Flying Saucer - the Foo Fighter, a strange, aerial intruder reported in the war-torn skies of Europe and the Far East;
Accounts of strange bodies recovered from crashed aircraft of fantastic design and unknown origin that, in some cases, pre-date the events at Roswell by at least 6 years;
Reports that seem to fall into the so-called 'Alien Abduction' category;
Secret experiments to perfect 'death ray'-type devices.

And much, much more!

ISBN 0 9512 872 14
© 2000 Weird War Tales Library £7.00

For information about how to order this book, please fill in the details below:

METHODS OF PAYMENT

Please add 25p (£0.50 outside UK) per magazine and 75p (£1 outside UK) per book. Payment can be made in UK cash, by IMO (an international money order), Eurocheque, or by a cheque drawn on a UK bank. Please make all cheques payable to Jonathan Downes. Britain is one of the few countries in the world where US dollars do not circulate. If making payment in US$ then please add $14 to cover the currency exchange fee.