CFZ COMMUNICATIONS

also publish and distribute a number of other publications that may be of interest to you

THE OWLMAN AND OTHERS VIDEO £10.00 $US15.00 PAL/NTSC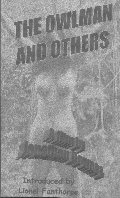 During the long, hot summer of 1977 reports began of a bizarre and disturbing creature, half man half owl, haunting a graveyard in southern Cornwall. The media dubbed it the "Owlman". Nearly 20 years later author and investigator Jon Downes wrote his acclaimed tome on the phenomena. Now, in an ill conceived effort to convince his doubting girlfriend, Miss Maxine, that his book was not the ramblings of a collection of mental retards, he begins an epic journey. Retracing his investigative steps he returns to Cornwall, his whinging spouse in tow. But they are not alone…
Hot on their trail is an evil gay cowboy and his pre-op transsexual nazi sidekick. Intent on disproving the Owlman and rubbishing Jon`s book he will stop at nothing to foil his sham artist nemesis. In a road movie that resembles a cross between the Wizard of Oz, and Pink Flamingos they meet sea serpents, lesbian witches, inbred yokels hurling abuse, wizards, nazi rallies, and an insane tramp who has spent the last 25 years in a rural layby trying to sell the same bottle of lemonade! This is a film with something for everyone (but your G.P can give you cream for it).After its triumphant premiere at the Fortean Times Unconvention it is now available to the general public. God help them.
THE WEIRD WORLD OF LIONEL FANTHORPE, JON DOWNES AND THE AMPHIBIANS FROM OUTER SPACE (Voiceprint Records)

The long awaited CD on which Father Lionel Fanthorpe, Britain`s best loved fortean singing vicar teams up with Britain`s best known fortean rock band for fifteen tracks of glorious strangeness. For many people this is the best record of the year! £10.00/$US15.00
WEIRD DEVON by Jonathan Downes, Richard Freeman and Graham Inglis £3.00/$US5.00
The long awaited case book from the three stalwarts of the Centre for Fortean Zoology and the Exeter Strange Phenomena Research Group who are rapidly becoming the most famous fortean investigators in the UK. Follow their adventures in search of mystery cats, sea serpents, ghosts, and the bizarre weird warbling whatsit of the westcountry! Amusing and enthralling!
UFOs over DEVON by Jonathan Downes £3.00/$US5.00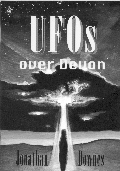 You`ve heard of Roswell and Rendlesham, but did you know that the sleepy English country of Devonshire has been the focal point for UFO activity for at least a hundred years. In this enthralling book Jon examines the historical records and concludes that at least in the land of cream teas the truth is indeed very much out there!
THE BLACKDOWN MYSTERY: A tale of UFOs, Crash Retrievals and High Strangeness by Jonathan Downes £7.00/$US10.00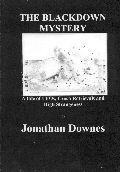 In this remarkable book, Jon weaves a complex tale of conspiracy, anti-conspiracy, quasi-conspiracy and downright lies surrounding an air-crash and alleged UFO incident in Somerset during 1996…
For information about how to order any of these books, please fill in the details below:
METHODS OF PAYMENT
Please add 25p (£0.50 outside UK) per magazine and 75p (£1 outside UK) per book. Payment can be made in UK cash, by IMO (an international money order), Eurocheque, or by a cheque drawn on a UK bank. Please make all cheques payable to Jonathan Downes. Britain is one of the few countries in the world where US dollars do not circulate. If making payment in US$ then please add $14 to cover the currency exchange fee.