15 Nov 98 THE ISMO FEATURE:
NADA SURF

"The Proximity Effect"

Elektra 7559-62207-2) ****
Wow! I really like this band! For a while now (OK since about 1975) it has been de rigeur >to state that your influences include the massively obscure US rock band Big Star, which were fronted by ex-Raspberries singer Alex Chilton. Well this band DON'T number Big Star amongst their influences - but by heck they sound as if they do!
Nada Surf have managed to fuse some of the most gorgeous melodies I've heard in a while with some of the most elegantly brutal guitar playing I've heard in even longer. Add to this some wonderfully ridiculous lyrics (like the couplet rhyming 'drunk on Bacardi' with someone walking home 'from a party' ) and you have yourself a band which I wish I`d been hip enough to have heard of earlier. I'm going straight down to the second hand record shop with some of the other shit we've been sent this week in order to trade it in and try and get a copy of their debut disc pronto. - Atilla The Hen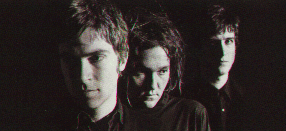 THE PRESS RELEASE
Nada Surf, the band who had the fortune to pen one of the biggest alternative singles of 1996 in the shape of 'Popular' (a rather biting satirical attack on American High School 'jock' culture which became hijacked as an anthem by the 'out crowd' watching MTV around the world) return with their second full-length album for Elektra Records 'The Proximity Effect', released October 19th.
Singer/guitarist Matthew Caws and drummer Ira Elliot are from Manhattan and Queens respectively. Bassist and sometime singer Daniel Lorca is from Madrid, but spent some of his childhood in New York, where he and Matthew both went to a French school. Both sets of parents refuse to elaborate as to why they went there. Ira went to the 'Fame' school where, he will readily confirm, people breakdanced in the canteen and staged musicals during morning break.
Matthew and Daniel formed their first band together when they were 15, and have been playing together ever since. Ira, meanwhile, has been all over the map. He spent his formative years as a member of New York's Fuzztones, co-conspirators in the mid-eighties garage revival, and then did some time in a highly suspect funk-metal outfit, before hitting the road with The Smithereens as a roadie. In 1994, Ira was working in a bowling alley, about to make the move to singing and guitaring, when Daniel and Matthew asked him to join their new band. They threatened to walk out with their bowling shoes on if he didn't say yes.
Of the bands many influences, Caws has this to say - "when we made this record, we weren't trying to sound like anything or anyone in particular; we were just thinking about music in general, how to best get each song across. Obviously things do creep in - a little Beach Boys in 'Bacardi', a little Iggy in 'Dispossession', a little Chavez in 'Firecracker' - but all in all I think it sounds like us."
---