---

Six of the 12 Baebes.

6 Nov 98 THE ISMO FEATURE:

Mediaeval Baebes
---
In this week's feature we take a look at the Mediaeval Baebes and at their new CD...
---
"WORLDES BLYSSE"

Mediaeval Baebes

Virgin CDVE 941. Released: 19 Oct 98

******
Once in merrie England did dwell one dozen maids. So fair of face and voice, this comeley tribe, that many who should see these sylphs or hearken to these sirens lost forever his heart and forfeitted his soul to them.

One such was a wandering wizard, Siggsworthy Craggs. Feverish was the enchantment heady the rapture. Beauteous as a Dryad's kiss, deadly as a firedrake's breath.
"And the spell is yet unbroken
I am still their bidden slave
Til a casket from the wychwood
Bears my body to the grave."

Sing on, this sweet damnation of my heart...

Siggsworthy Craggs
---
BACKGROUND: PRESS RELEASE

BAEBES GIVE EARLY MUSIC A MAKEOVER

It looks like Nigel Kennedy, Roberto Alagna, and Luciano Pavarotti can't cut it in the classical charts when challenged by a dozen temptresses chanting the hottest sounds of the thirteenth century.

The MEDIAEVAL BAEBES is an immensely talented vocal group (which also happens to imbue the presentation of Early Music with a certain Anglo-sex-on-legs kind of style). Now the BAEBES are back with a new album entitled WORLDES BLYSSE.

Their debut SALVA NOS (released last November) went straight into the Classical Chart at Number 2, stayed in the top ten for three months and beat off all the big names in the business; it was the eighth biggest seller of the year and the only classical debut to go silver in 1997; to date it's sold over 60,000 copies.

The band plans to build on this success with a new album WORLDES BLYSSE, meaning earthy delights. Most of the tracks are original compositions by Katherine Blake and the group's other members. The lyrics draw on 13th, 14th and 15th century poetry, set to music composed in the twentieth century in a medieval idiom. With its broader range of harmonies and stronger percussion, the album has a distinctively up-beat feel.

A 24 bit digital recording created by candlelight at CTS in Wembley, WORLDES BLYSSE is where 21st century technology meets 13th century culture, admirably illustrating The Times' contention that the MEDIAEVAL BAEBES are the 'Spice Girls set loose in the court of King Henry VIII'.

But ignore the idiosyncrasies of image which the BAEBES play on with the zest of naughty children, and you are left with an extraordinary, balanced and highly proficient vocal ensemble.

As The Independent commented 'they do what they do remarkably', they 'hold everyone in a hypnotic trance', and their singing 'makes ... the hairs stand up shiveringly on your neck'. It's 'mediaeval soul music' (The Times).

Ultimately it's the quality of their artistry - and not their strikingly sensual appearance - which makes the MEDIAEVAL BAEBES such a success. After all, who'd listen to Pavarotti if he hadn't the talent, but appeared in a thong?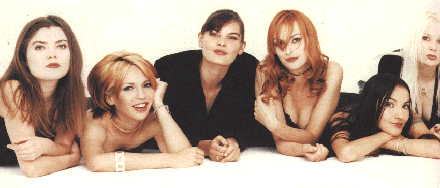 The MEDIAEVAL BAEBES are currently on tour; the remaining dates are:
Tue 10 Nov - Cardiff - St Davids Hall
Wed 11 Nov - Worcester - Huntingdon Hall
Fri 13 Nov - Kirkcaldy - Adam Smith Theatre
Sun 15 Nov - Cirencester - Sundial Theatre
Tue 17 Nov - Newark - Palace Theatre
Wed 18 Nov - Norwich - Waterfront
Sat 21 Nov - Croydon - Fairfield,Pagan Convention
Mon 23 Nov - Southport Arts Centre
Thu 26 Nov - Aylesbury - Civic Centre
Sun 29 Nov - Guildford - Civic Hall
Tue 01 Dec - Reading - Heaxagon Theatre
Sat 26 Jun '99 - Ludlow - Ludlow Festival
---